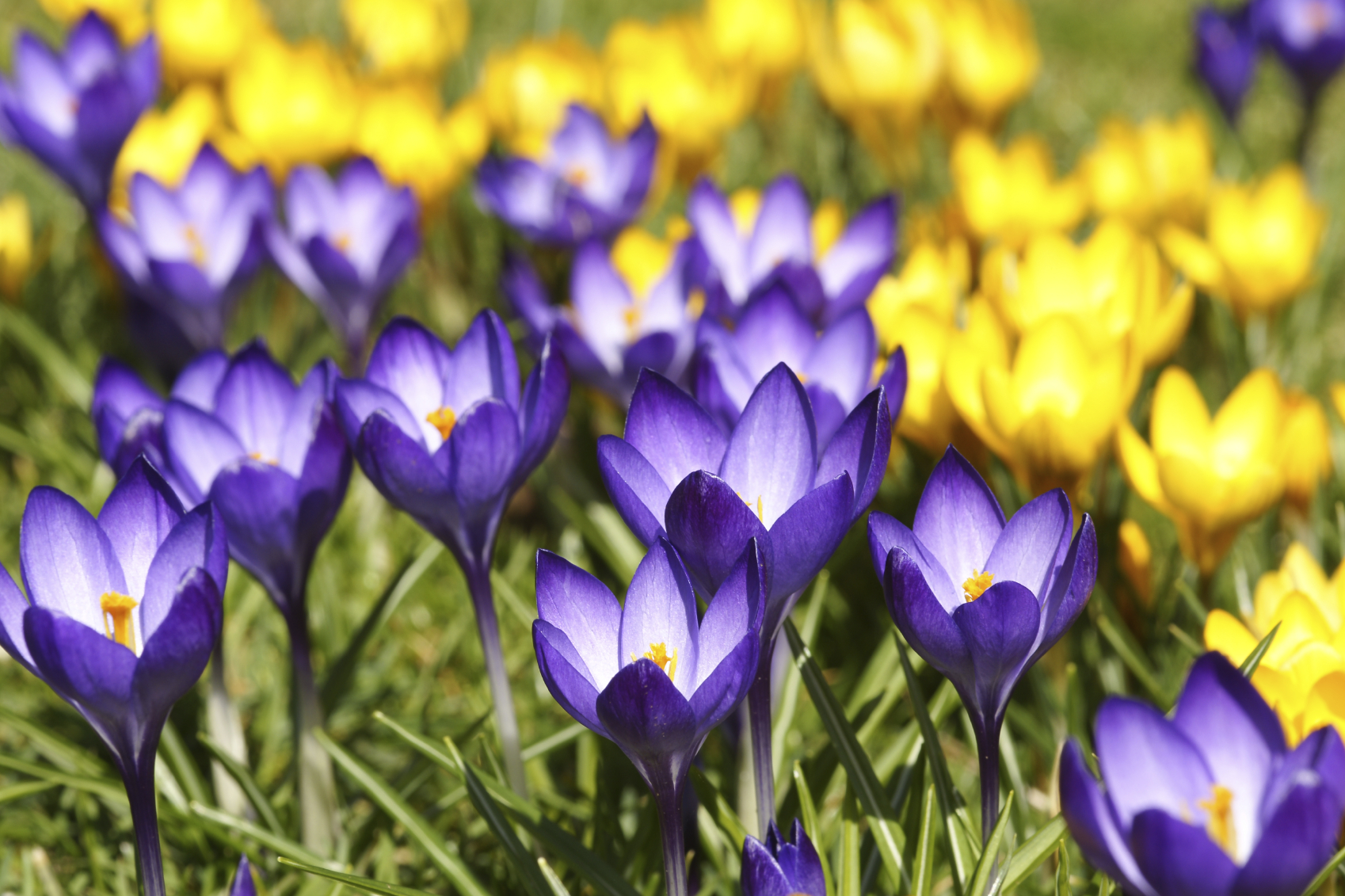 Early spring crocuses, delicately scented hyacinths, nodding daffodils and vibrant tulips are favorite flower bulbs for coloring your garden from very early to late spring. But how should you plant them for a great impact and to match the theme of your garden or landscape?
Formal vs. Natural
Clumps of color in a formal planting of hardy spring flowering bulbs is, by far, the most spectacular way to display these beauties. Planting several dozen bulbs in a mass heightens the impact when using one variety and color. Coordinating colors or varieties can be arranged in planned beds for a uniform, luxury look.
The opposite approach is a naturalizing technique where you replicate the look of bulbs growing wild. These bulbs create colorful surprises throughout the yard, often popping up in unexpected places, but they are no less delightful.
Whichever overall design look you choose, planning the garden for a formal, massed look or for a natural appearance will yield spring flowers with minimum care.
Planning Your Bulbs
This fall, before you purchase hardy bulbs, look at areas in your garden that could benefit from color. Note when the bulbs will bloom, and whether they prefer sun or shade. Check the height of the bulb plants and their bloom times. Knowing the facts about the bulbs will help you plant them where they will perform and look best.
Formal Bulb Planting
Because flowering bulbs bloom early in the spring, their clumps of color in a massed planting can fill those gaps in the yard when trees and shrubs are still leaf-barren. By the time the bulbs have brightened these areas, the deciduous trees will begin to leaf. Growing on a bank or at the nearby base of a tree, daffodils in massed planting will give your garden a showy drift of color before summer's flowers bloom.
Mix hardy spring bulbs with annuals, perennials and biennials for ongoing landscape beauty. Your only maintenance over the seasons is to prune, replant to replace old bulbs and divide occasionally where there is overcrowding. Keep in mind that the smaller the blooms, the greater the number of bulbs you will need to plant. A couple dozen tulips may be fine for a border, but several dozen small snowdrops might be needed in the same border.
When planting a border, place the bulb flowers with long leaves behind perennials. The leaves and flowers of the perennials will grow up and cover the spent yellow foliage of daffodils, tulips, alliums and crown-imperial fritillarias. In border planting, perennials such as phlox, periwinkle and candytuft can be a ground cover for May flowering tulips. Perennial plant leaves from plants like shade-loving hostas can be used as foreground foil in a border planting of tulips that prefer shade (`Triumph'). With a little planning, a border can be an easy care focal point by mixing flowering spring bulbs with other garden flowers.
Formal planting of hardy spring bulbs produces an impressive show of color. Hyacinths and tulips can be a dazzling display in a single-colored massed planting; purple hyacinths and scarlet tulips can be showstoppers too. Parrot tulips, frilled and bold in color, can be carefully paired with the generous blooms of bright cottage tulips. A winning combination is the duo of yellow daffodils or tulips with grape hyacinths.
Keep scale and color in mind when doing formal planting with spring bulbs. Planting similar colors and varieties rather than mixing them is the best approach, though careful experimenting can result in pleasing effects, too.
Planning Naturalized Bulb Landscaping
Naturalizing is a good method of planting hardy spring bulbs like crocus, grape hyacinths and daffodils where drainage is good and where the foliage will not be mowed. To achieve a natural growing look with bulbs, space them by taking a handful and tossing them gently. Simply plant them wherever they land for a 'growing wild' effect, avoiding any regular rows or predictable spacing.
Another look in naturalizing with small flowering bulbs is to plant them in a rock garden. Where the soil is unsuitable for larger bulbs, smaller bulbs are ideal. Hardy small bulbs of anemone blanda, snowdrop, kaufmanniana and tarda tulips, Siberian squill, crocus and Iris reticulata are perfect for massed planting in a rock garden.
Your preparations for a colorful spring begin in the fall. Imagine what joy you will realize when your spring garden comes alive with color from those drab brown bulbs.